:: home ::
Drummer/Percussionist
Richard Hutchins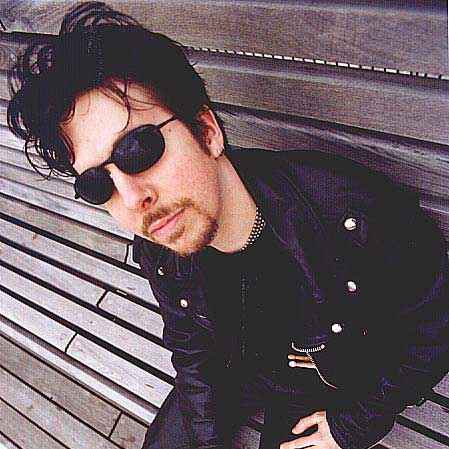 "Bloody" Rich Hutchins is a natural born drummer living on the Lower East Side of Manhattan. Single minded in his percussive pursuits he has managed to sleaze his way into radical protests, avant garde performance pieces, celebrations of love and late night spontaneous campfire/treehouse affairs. He has played at CBGB's over a million times with the likes of Live Skull, Ruin, Of Cabbages and Kings, Sugartime, and Digitalis. He has a great appreciation of women and backed girl-powered artists Juliet Echo and Froot Basket. Recently he has maintained his sanity while at the same time holding down the rhythm section in the progressive rock band PHIDEAUX, playing with Stu Spasm of LUBRICATED GOAT, doing drum duties in the Hungry March Band, while at the same time enjoying playing in the back-up band for Little Miss Big Mouth.

Boring background data:
He grew up in Philadelphia. His first instrument was violin, which he played for over 4 years, as a member of the school orchestra. He studied violin, piano, & recorder at the Settlement Music School in Philadelphia, and took private violin & theory lessons until around age 10.
Around age 12, he became interested in playing music again, but was more interested in guitar. Richard took guitar lessons and then a few bass lessons for a short time and spent all his time jamming with his friends. At some of these jams a friend's brother would play drums. One day, Richard sat down at the drum kit, & started playing a beat & simple rolls. From that moment on, Richard knew he was to play drums
Richard took some drum lessons from a few local teachers. In college studying for a marketing degree, he took classes in Music Theory, The History of Western Music, Guitar, the Physics of High Fidelity, & Computer Music. He was the drummer for various local Philly bands, most notably RUIN... from 1982 to 1984. He also was the drummer for LITTLE GENTLEMEN, FUZZY WARBLES, and SERIAL KILLERS.
In 1987 he replaced James Lo in LIVE SKULL & moved to NYC. They recorded 2 CDs & 1 EP, as well as various tracks for compilations & a John Peel Session for the BBC while on tour in Europe. He later was a member of OF CABBAGES AND KINGS (replacing Ted Parsons), and SUGARTIME.
Over the last 10 years he has been in many projects, including DIGITALIS, TWO TON RHINO, THE CHINESE MUSIC ENSEMBLE OF NEW YORK, and SATYRICON. SATYRICON featured PHIDEAUX XAVIER on bass, whom Richard has been working under the title PHIDEAUX. Over the last 10 years, PHIDEAUX has released 6 CDs so far, with more in production, and headlined the Crecendo Progressive Rock Festival in France during the summer of 2007. One of these CDs, FIENDISH, was produced by Kramer. Richard had worked with Kramer briefly while a member of Live Skull when Kramer produced a track for THE END OF MUSIC AS WE KNOW IT compilation cassette for ROIR Records. The tracks were recorded under the band name NEEDLE NOSE and featured all the members of LIVE SKULL (except Marc C).
Richard also played drums for THE SPIRIT VALENTINE, a New York Goth/rock band, and URBAN SOUNDS OF DECAY, an experimental music group that featured multiple drummers and bassists, as well as other instruments. Richard also does various projects for hire, including TRUE WEST, a local rock band.
Richard currently performs with THE HUNGRY MARCH BAND, a 20-odd pice brass band that does covers and originals from around the world, including raggae, ska, balkan, bollywood, New Orleans 2nd line, rock, funk, etc. They have toured Europe & recorded 3 CDs. Their music has appeared in films by John Cameron mItchell, ads for American Express, and they were voted 'Best Anarchist Brass Band in New York' by the New York Press.
He also has recently begun playing with Stu Spasm, infamous leader of LUBRICATED GOAT, and they have begun gigging locally.
Richard's goals include continuing to perform as a drummer in various ways that will increase his skills, expand his technique and to increase his recognition as a drummer. He also is working on ways to use the Internet to promote his music & drumming.
His website is http://www.bloodyrich.net. His music can be heard at mp3.com at http://www.bloodyrich.net/mp3.html. He also has an eGroup at http://groups.yahoo.com/group/bloodyrich/, that notifies people of events he is involved in by email, & has photos & other related materials.
"I don't want to work - I want to bang on the drum all day"
:: home ::